Nvidia Shield – What is it?
Are you looking for a streaming device that is a complete entertainment hub and can
deliver a gaming experience that is nearly on par with any games console? Then the Nvidia Shield is the complete media streaming games console equipment in existence as of right now. First introduced in May 2015, It runs on the Android operating system and comes built in with Google assistant voice command for easy navigation and you can also use it to turn off your lights with the help of Samsung SmartThings. It also comes with a game controller for easy game play and loads of free apps to get you started right away.
Nvidia Shield tv – Who is it for?
This device is for the individual who wants a streaming device that has the capability
to be their complete entertainment and gaming hub. It connects to your TV through the HDMI port and connects to the internet through WiFi or Ethernet port. If you are a newbie to streaming devices, it
is easy for you to get started right away through the pre-loaded apps that comes with it. However, you can always add more apps through your Google play store. You will get access to your Amazon prime video account as well through the Prime App. Netflix app comes standard of course, VUDU
and also YouTube. Also, available is Slingtv and PlayStation Vue which will enable you to subscribe to your cable channels for live TV. Nvidia Shield can give you complete cut the cord experience
offering you the smoothest 4K HDR viewing.
How does it work
Nvidia Shield has an easy to navigate menu and comes with voice enabled remote and also a
voice enabled game controller. It now comes in three models, the Shield TV edition, The Gaming edition and the Smart Home edition. All Shield version comes with 16gb internal storage. However, there is also a Shield Pro version that comes with a huge 500gb of internal storage. The Shield Pro is larger than the standard Shield version. However, both comes with USB and SD card slots so you are able to add external storage. This Article is specially geared towards the Gaming edition, because I think this is version that I think consumers will get more value for money and a better owner experience.
Built in Google Assistant
With Built in Google Assistant, you can control your entertainment experience by simply
speaking to your device through your remote or game controller. You can ask it to show you the latest movies on Netflix, Select and play a movie and also to adjust the volume.
Entertainment
In addition to the pre-loaded Apps I mentioned earlier, other big names like Pandora for
music streaming, HBO Go, ESPN, Fox Sports, CBS and Hulu are also available. It also supports Google casting so you can also view something on the big screen right from your phone or tablet.
Streaming in 4K from any of the Streaming services (whether Netflix or Amazon Prime) is effortless. Load times are fast and switching between Apps is a breeze.
Gaming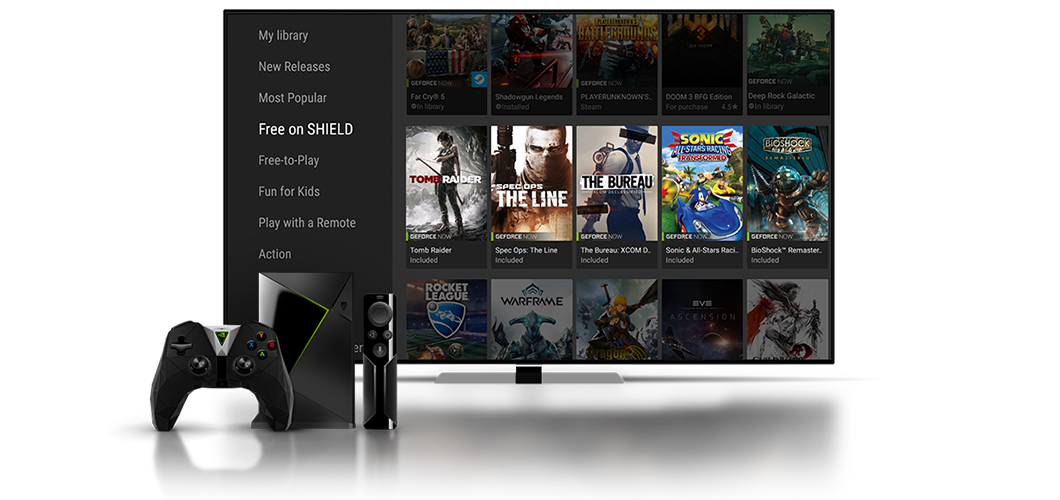 Nvidia is Synonymous for gaming, especially PC gaming. They make the best computer
graphics equipment that enables you to get the best possible gaming experience on your PC, and of course, they want to replicate that same experience on their Android streaming device as best as possible. The Shield is the only streaming box in existence right now that can
give you the best gaming experience at the moment.
It comes shipped with a wireless game controller that also doubles as a Remote. It is
also compatible with Google assistant and is also rechargeable. It offers you the same experience you would get from a gaming console controller.
Although you are able to play Android games from Google play store, Nvidia also has a
subscription service called Geforce Now, where you can play top-notch games on your Shield for a small monthly fee. Geforce Now has over 200 titles at the moment with more added from time to time. If you
already have a subscription to Steam, you can also play it through Shield.
Additionally, The Shield comes with a feature called GameStream, where you can stream
your game that are on your Gaming PC over your local network to your big screen. This Feature enables you to stream games that are already on your PC (or through Steam) that are not available anywhere else
or if you don't have a Geforce Now subscription.
SmartHome
Apart from telling your shield to play a movie, report the weather or to play a song from your playlist. You can also tell it to turn off or dim the lights and adjust the temperature of the room. Nvidia
Shield is able to do this with the help of SmartThings by Samsung.
With the Help of the SmartThings link USB Dongle, It is the easiest way to turn your home into a smart home. There are hundreds of products on the market that is compatible with the Samsung
SmartThings link such as Electrical outlets, Thermostats, sensors, buttons and Speakers, and all can be controlled from just a voice command using your Nvidia Shield Remote control.
Conclusion – Why you Should buy the Nvidia Shield Set-Top Box

Undoubtedly, The Nvidia Shield is sitting at the top of its class when it comes on to streaming devices and cutting the cord options right now. Especially with new versions about to be shipped with
trial offers to YouTube TV. This Streamer is made by a company that manufacture computer component for many years, and that expertise and experience is so evident in this box.
With its many pre-loaded entertainment Apps, its 4K picture clarity and great internal hardware design to give you the smoothest streaming experience, the Nvidia shield is your complete
entertainment hub.
It turns out that the same crowd that prefers to stream their entertainment also loves gaming. If you don't want to spend a lot of money on a gaming console but wants the same gaming experience that
the console gives you. The Shield is an excellent alternative. With Geforce Now and GameStream, 4K, streaming at 60 frames per second, PlayStation Vue App preloaded, you will not miss or see the need for
a console.
If you are not too much of a techie, setting up GameStream, the feature where you stream the games from your PC to your shield through your local WiFi network will have a level of difficulty for you. Hardcore gamers won't have any problems with the setup. However, the quality of
game-play also depends on the speed of your internet, it is recommended that you have an internet connection speed of 50mbps to get the best possible experience when gaming.
Although most people do prefer WiFi connections on their internet enabled devices. I always find that an Ethernet connection always give a better or smoother streaming experience, whether you are
watching live TV, or Netflix. I do also recommend an Ethernet connection for a better gaming experience on the Shield as well.
The Shield is already shipped with the ever improving Google Assistant, why not extend its capability to the rest of your home. With the help of the SmartThings link and the App installed on the Shield.
It is the cheapest way to transform your home into a smart home. The Shield will act as the control center for all the device to turn your lights off and adjusting your thermostat, all from the Shield's
voice enable remote.
You can share your experience, comments or ask any questions in the box below this article.
If you want to see the best deals on the Nvidia Shield, Click Here.
Sources  Nvidia, Android Central